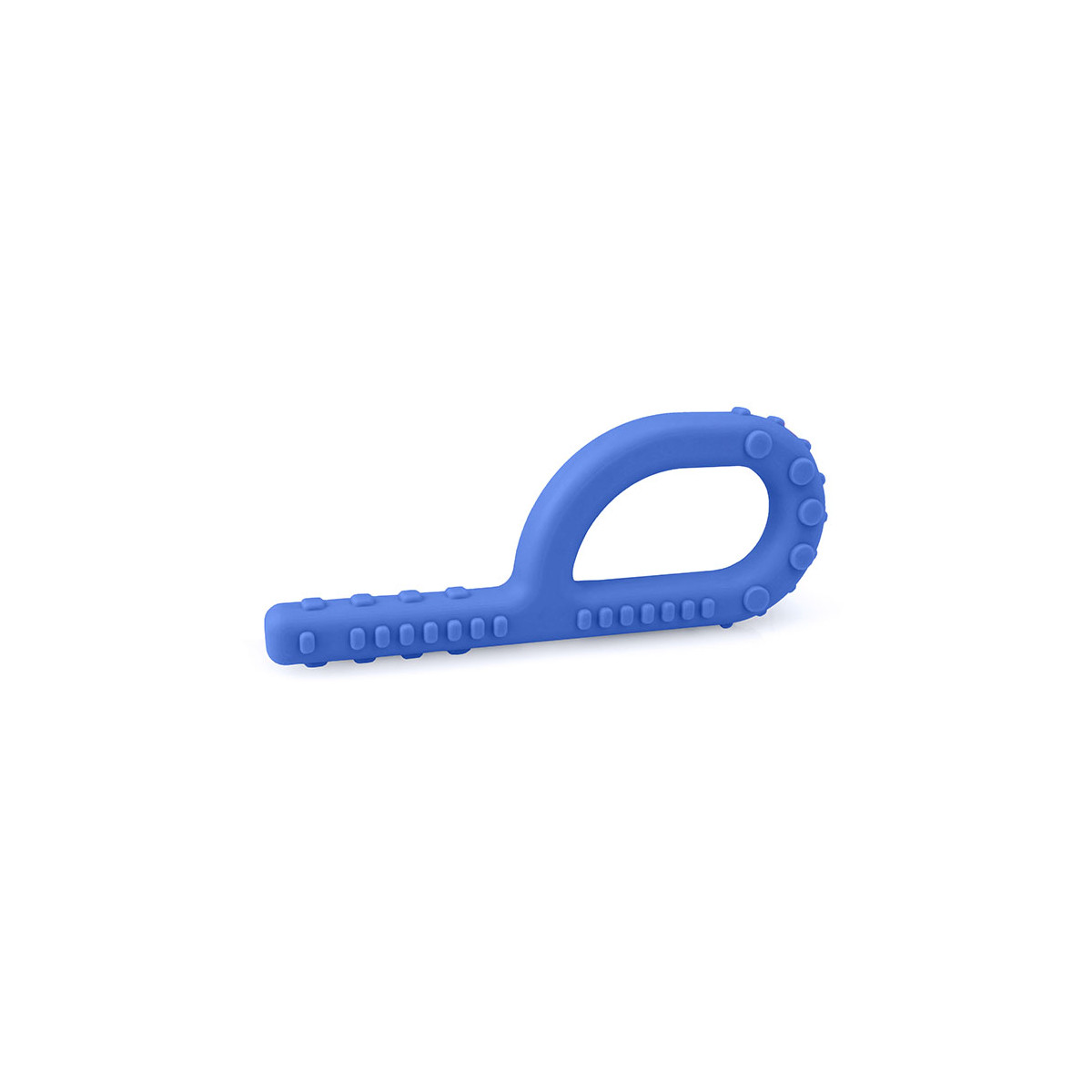 ---
Product Media
Ark's Textured Grabber - Very Firm/XXT
Product Number: GA100XXTTexRoyal
ARK's Textured Grabber® is a textured version of the popular Grabber® oral motor chew tool.
It also features 3 different surfaces to chew on: one smooth, one with circular bumps, and one with rectangular bumps. These textures simulate the feel of actual food for realistic non-food chewing practice.  They also add extra tactile sensation to the lips, cheeks, gums, and tongue to help desensitize the mouth, decrease decrease oral defensiveness/aversions, and transition individuals with sensory issues from puréed to textured foods.  
As an oral fidget for sensory seekers craving stimulation and proprioceptive input
As a safe alternative to chewing on hands, knuckles, shirts, pencils, etc.
As an alternative to tooth-grinding and/or thumb-sucking
To help decrease oral defensiveness and food aversions
To practice biting/chewing without the risk of choking
To work on jaw strength and stability and oral motor skills
To build oral strength, mobility, and control
To satisfy the urge to chew for individuals who are fed through a g-tube
ARK manufactures the Grabber® in the USA!  It's medical grade, FDA compliant, and contains NO lead, phthalates, PVC, BPA, or latex.  Measures approximately 5 inches lengthwise, just under 2 across the loop, and half an inch thick. 
Caution: although these chew tools are sturdy and durable, no chew tool is indestructible. Some individuals (particularly those with heavy oral needs and aggressive biting/chewing) may be able to damage the tools. How long each tool lasts depends on the oral sensory needs of the child, whether or not they are seeing an occupational therapist if needed, as well as many other variables in his/her life.  Please supervise at all times and replace if necessary when the item shows signs of wear and tear.  For tougher versions of the Grabber, check out the Grabber XT and XXT.  For the toughest chew tool overall, see ARK's Y-Chew XXT.
No customer reviews for the moment.